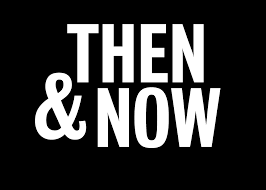 My friend always joked that if you held on to a clothing item long enough, it would come back in style. To an extent, she's isn't wrong...most trends and silhouettes do come back in style, it has just been reinvented or updated. Let's check out some of these fashions trends from then to now!
 

THEN

NOW

TIE DYE

Tie dye had a hippy vibe and started gaining popularity in the 60s and 70s. The vibrant colors in tie dye items really made you stand out of a crowd...especially a crowd at a concert. Woodstock anyone? 

Tie dye has come a long way now and with technology, the variety of tie dye patterns are endless! A new twist on tie dye is offering it in neutral colors. This XCVI Tomaso tank would help you stand out at Lollapalooza, the modern day Woodstock.

GAUCHO PANTS

Gaucho pants were one of the hot trends in the 2000s. You weren't a "cool" kid unless you were rocking these.

 

 

Wearing this updated version of the gaucho pant, you will definitely be looking "cool." This version is a cargo pant meets gaucho, which is a great update because who doesn't love pockets! The XCVI Rishi Wide Leg Crop Pant comes in a unique, fresh color which is an upgrade from gauchos of the past. 

 

SPORTY TREND

 

The terry tracksuit was a huge craze! These were a great, comfortable option to wear while running errands or picking up your kids from carpool. Easy to be the hip mom when you wear a different color track suit each day of the week.

 




Well you will be one chic mom in this Fifteen Twenty short sleeve hoodie dress, which is a twist on the sporty 2000s trend. The beautiful blue on this dress gives homage to all the various colored tracksuits we had in our closets but is a more lux option.
What's your favorite then and now trend? Let us know in the comments below! :)